I've decided to reserve this space for reviews, not only MY books but other books I've read, specifically those I've met on facebook or am reading personally. I'll start things off with some reviews on my preliminary book posts from other sites just to get the ball rolling, so to speak.
Dragon Sage Series Book Reviews
I love the cover to your book. I really like your idea of the dragons being guardians. I glanced at this several days ago and had a bit of difficulty following it. Coming back to it and rereading chapter one it feels better.
That being said: This feels like an ancient story (which I really like) but not only is it an old time, but a strange environment for the reader. I feel like I walked into a movie ten minutes late and I'm trying to figure out what's going on. I think most of this could be fixed if you gave us half a page of narrative up front to set up the story.
This story has a lot of potential. I'm going to put it on my shelf for a bit…hopefully get you some traction going here!
Good luck with this,
Jeff
Hi there, CJ. I've seen your name around but only now been tempted in to have a read. Why? Because of dragons. There are just so many about, of course, and it's tough to do anything original with them. I notice someone compares your work to Christopher Paolini's. Pah. I found Eragon to be a cheap Lord Of The Rings knock-off. What you have here is much better than that. Not only do I get a strong sense of someone with an original take on dragons, but there's evidence of careful thought invested in the culture and philosophy of your world that elevates it. It's a breezy sort of read too, whips along nicely. My main quibble at this point would be over formatting, in that having just part of the first sentence bolded looks odd, with the bold seeming to end on a random word. For presentation sake, I'd be tempted to bold the entire first sentence. Oh and in the pitch, although defiled is a good word, there's no doubt, it's very vague as to what manner of defiling the dragons are under threat of. And that potentially could lead to all sorts of mind-boggling images. So I'd like to see something more specific in the pitch. Other than that, I'm happy to pop this particular dragon fantasy on my bookshelf for a spell – it may not prove as popular as Eragon, but it's a darn sight better.
Review by: Chrystal Keeney on June 20, 2013 :

Truly a great read… Blood and Bane had me captivated from page one. I could not put the book down as I was eager to find out what happened next through each chapter. I am looking forward to the next book in the series, and can't wait to see what unfolds in the Realms of Arydd! I strongly recommend this book to anyone who appreciates a great fantasy novel that leaves you begging for more.
(reviewed long after purchase)
Review by: Rob Lefkowicz on May 29, 2013 :

Blood and Bane's bending kept me glued to the computer for hours on end. The story was unusually unexpected for a fantasy novel. I found myself wanting to jump ahead to find out what was coming next. I'm looking forward to the next installment of the series and strongly suggest this book to anyone looking for a good, fresh, and entertaining read.
Review by: Angus H Day on May 23, 2013 :

This story has revived my interest in reading some fantasy after abstaining for more than thirty years. The Realms of Arydd paints a society in which Dragonkind rules benevolently over human and Dragon. The safety and health of the land come first in all decisions made. The bad, dark, evil, greedy,…, side is represented by a strain of humans once exiled who draw upon the energy of the land to achieve their goals at the expense of others.
Thankfully the author has provided a glossary of names at the back of the book to help the reader to stay sorted. I found myself cheering for Karandra, a Wyse-woman, not the main character. That's how I roll. I encourage all to read this work.
From Amazon.com (Kindle)
Lynda Sundberg (4 stars) 
Old world dragons, shamans, and staves is not my normal read. It took me awhile to get "into" the story due to trying to differentiate between dragons and people. Once I had that I enjoyed the book. Grabbed your attention and made me want to continue reading to the end. The author ended this book waiting for the next book to continue the story.
My Book Reviews (on other authors)
Game of Thrones – George R. R. Martin, Publisher: Bantam
Long ago, in a time forgotten, a preternatural event threw the seasons out of balance. In a land where summers can last decades and winters a lifetime, trouble is brewing. The cold is returning, and in the frozen wastes to the north of Winterfell, sinister and supernatural forces are massing beyond the kingdom's protective Wall. At the center of the conflict lie the Starks of Winterfell, a family as harsh and unyielding as the land they were born to. Sweeping from a land of brutal cold to a distant summertime kingdom of epicurean plenty, here is a tale of lords and ladies, soldiers and sorcerers, assassins and bastards, who come together in a time of grim omens.
Here an enigmatic band of warriors bear swords of no human metal; a tribe of fierce wildlings carry men off into madness; a cruel young dragon prince barters his sister to win back his throne; and a determined woman undertakes the most treacherous of journeys. Amid plots and counterplots, tragedy and betrayal, victory and terror, the fate of the Starks, their allies, and their enemies hangs perilously in the balance, as each endeavors to win that deadliest of conflicts: the game of thrones.
Without a doubt George R. R. Martin has written a masterpiece here. Although it seems at times it can move along a bit slower and be a bit wordy, it also helps you to immerse yourself in the characters' dilemma and really feel everything they're feeling. In direct proportion to the HBO televised version, with Mr. Martin taking an active part in its production, it has  been captured in the gritty, raw form that the book contains. I heartily recommend Game of Thrones, but be prepared – it isn't for the faint of heart.
Legacy of Daddy – Angus H. Day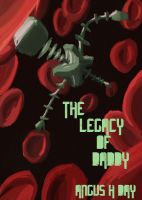 What happens when a Graduate student competes for a PhD in a dystopian society by experimenting with dangerous alien technology? Does humankind need technological help to leave Earth? These and other questions are awkwardly dealt with in The Legacy of Daddy.
Published: July 01, 2012
Words: 57,394 (approximate)
Language: English
ISBN: 9781476152028
Legacy of Daddy is a whirlwind ride of an incredible universe heavily constructed by Angus H. Day. This book is chock full of action, believable techno-speak, new races and new worlds. Legacy of Daddy takes the reader on a journey that never stops to breath and covers everything from advanced medical science, to political and social upheaval to sex and space wars. The science behind the nanites and progression of technology in this world helps keep the story level, although there are some rather interesting technological twists and turns which dance along the fence of science and fantasy. Angus H. Day has packed years of progress and experiences by the main characters into an easy read and a fun ride. I recommend reading this book and the following series!